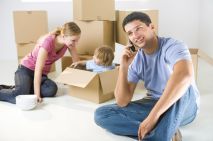 Using a Sutton Man and Van When Moving Locally – What are the Advantages?
28 August 2014
If you are planning a local relocation, then the chances are you may not get the best value for money from larger removal companies, and may not even need to hire extra help at all if you have a few willing friends or family members that can help on moving day. That said, more local removal services Sutton can often be a great help and worthy investment when dealing with a smaller or local move.

Help on hand

While you may be able to deal with the majority of a small move Sutton yourself, by hiring a van and getting some friends or family to help out, for example, there are some advantages that come hand in hand with hiring a local Sutton man and van. Perhaps the most important is that you will not have to do everything yourself. Loading, packing unloading and driving can take it's toll, even for a small move, so having some professional help on hand can be a welcome addition.

A better value choice for local moves

You will generally find that hiring a man and van will work out a lot cheaper for a smaller or local move than hiring a removal company. This is because removal companies will tend to charge you by the day, which means if you can get your move completed in less time because your new property is fairly close, or you don't have a huge amount of items, then you not be getting the best value for money. A man and van, on the other hand, will generally charge hourly rates, which makes them a lot more flexible. You also get some extra help thrown in with the cost.

Flexibility

It may be that you won't need to hire a man and van for a long period of time, if you are getting some help from friends or family. Using a man and van for the larger items and furniture, or for what won't fit in the car, can be fairly cheap, as by taking advantage of hourly rates, you may not have to spend more than ?50 to get your furniture to your new home. Also, most man and van operators will take jobs in unsociable hours, or outside of normal removal company operating hours, which can be very useful for any emergencies or last minute things that need to be picked up.

Finding a reliable man and van

Often, you can find a good man and van by asking around your friends family or work colleagues that are local to the area. Many man and van operators get the majority of their business through word of mouth, so you could also try enquiring at local pubs or cafes, as they may be able to point you in the direction of a good service that can't be found online, for example.

Other than that, checking online and using the local phone directories are a good way to find a couple of potential services. The best way to go about things is to choose a handful of man and van services that look like they will fit your requirements, and then call around and get some estimates off each one before deciding. This will give you a good idea of how much you should be expecting to pay, so you can make sure you get the best value service in your price range. One thing to be careful of, however, is that the service you are booking is reliable. Generally, if you've found a man and van through word of mouth or from previous customers, you should have no problems. If you are at all concerned, then check they are registered with the British Association of Removers.