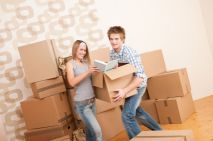 5 Things to Consider When your House Movers Highbury
28 August 2014
Juggling everything you own can be nigh on impossible when moving house. Thus, upon completing the move, it can be beyond frustrating to find out you have overlooked something ridiculously small, but massively inconvenient. Of course there are going to be small things that can be accommodated for when undertaking such a huge task, and of course you can't expect every tiny loose end to be tied up on your first day – but hopefully with the five tips below you can make sure that some of the most frequent errors aren't the ones committed by you.

1. Once you've packed up everything into your Highbury removal van, you may assume that you are pretty much done with your old house and ready to move on. However there are certain tasks that remain. Cleaning under where furniture previously was and filling the holes in the walls from paintings and decor is important and may be the key to retaining your deposit if you were renting. If you pack the cleaning supplies last when leaving your house, this doubly benefits you as you can then give your new house a clean before moving all the furniture and possessions in too.

2. It is almost inevitable you will forget certain items in your relocation to Highbury. Whilst the house may look bare to you, it is key that you check the shed for garden equipment, as this is a common mistake among many home owners. Attics, cellars, storage closets, boiler cupboards and the various dark forgotten corners of your house are also huge culprits, and just because something doesn't see the light of day very often does not take away from its value to you. Some of your most prized or useful possessions hide away in these places, so it is important to make sure you have checked every nook and cranny of your house before leaving.

3. Stay connected. In the modern world it is hard to live without a mobile phone for an extended period of time. It is of the upmost importance that you remember to keep your phone fully charged throughout the N5 move, and have access to a phone charger. Your phone may take many uses during the moving day, a map to your new home in Highbury, a checklist for your belongings as well as a communication device to talk to your removal men or helping hands that are available. If you use your laptop or tablet for such uses, remember to have access to these and their charging devices too.

4. Keys. Now of course no one is going to walk out of a house for the last time without the front and back door keys, but there is much more you need to consider. Shed and side gate keys are a common cause of dismay by leaving them after you have left your old house, and many houses will have multiple access points round the rear of the house. These types of keys will often be kept with the various keys for other equipment and items in your house, bike locks, suitcases etc, so by leaving these you may be sacrificing access to a number of other things.

5. The home comforts you deserve in your first night. Certain things are easy to take for granted, but after a day of moving and unpacking it is unlikely you will have everything sorted, so it is important you have access to the essentials you require for a comfortable first night. This will include setting up a bed (or at the very least access to a mattress) as well as toiletries, towels and the capacity to provide a good meal.