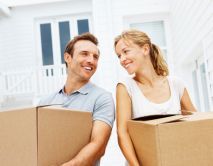 Different Types Of Removal Services Offered By Barnet Movers
28 August 2014
Removals companies all over the country will offer a range of services, and the nature of business nowadays means that many larger companies will have offshoots which cover almost every aspect of the removals industry, from full scale moves to international destinations, to smaller van hire, there will be a service to cover your needs and budget, so have a look through the different types of removal services offered by Barnett movers to get a good idea of what you need to make your move a perfect success.

Firstly, the full monty; the big breakfast of moves. If you happen to be a Saudi prince or a Russian oligarch who needs their mansion moved to another country, then there is the full sized removal service offered by many companies. Nowadays, Barnet removals companies offer a package that covers almost every single part of the move, so that you can literally put your feet up and have a cup of tea. There are services which include a full packing service, where a team will come round to your place and pack everything up for you, or just the particularly fragile items, whichever you prefer. They will then be covered by an insurance policy that means any breakages will be covered by the company, so that you will not be out of pocket should the damage be expensive. The company will then organize the transportation of these items abroad, including removing all boxes and furniture from your house, overseen by professionals with a great deal of experience, so that there is no risk of damage to your home on either end. The shipping will be arranged by the company to ensure that the best route and mode of transport is used. It is rare that the average person will know whether to ship their living room furniture to India on a train or by air freight, as there are so many variables, like weight restrictions, speed and cost to weigh up.

The advice of a professional removals company will help you in a big way here, as it is these sorts of decision that make the difference. Your removers can then get the items to your new place on the other end and deposit them, unpacking everything as they go, and even putting things in their right places if you tell them where everything goes. Along with this service you may find that you want to put certain unused items into Barnet storage, which they can do for you. Some companies will be able to take your items, pack them into storage containers, keep them at their warehouses, and then deliver them to you, safe and sound when you need them! Obviously all of this depends on the sort of budget that you are working with, but it is likely that if you have a large house full of nice things, then the items being moved are all pretty expensive, and so are the houses that are being moved in and out of, so it is worth hiring the best to ensure that nothing goes wrong at any point.

Of course, if you're just moving out of your bedsit and back to your parents, then you can hire a man and van Barnet to give you a hand with everything that you need to move, and get it there equally as safely… As we said above, there is a service for everyone's needs, you just need to look out for them, and do a bit of research into what you need and can afford!