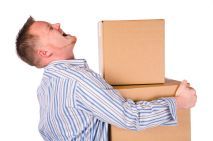 Things To Do A Week Before Your Acton Move
27 August 2014
With a week to go before your move, you will hopefully be pretty well settled in to the routine of getting your packing done and ready for the Acton removals company or van man to arrive. If you are well prepared, then the last week before the move should be just as relaxed as the few weeks before it, as decent time allocation should put you in a position of being able to time table he move out so that you're only doing a couple of hours of organizing and packing per day. This obviously means that you have to start a good month or so in advance of the move date, depending on the size of the job, as otherwise you will find that your last week before the move is a mad panic to get everything done in time.

If you are not as well prepared as you maybe should be, then you are not completely screwed, as there is a lot that you can get done in a week, especially if you have the whole week to yourself, so start by getting the week off of work!

With seven days to go you should be pretty close to having all of your packing done, but you must make sure to leave out the essentials, like phones and food, cooking implements and a reduce amount of clothing, so that you and your family can go about their daily lives without the move impacting on them. These last bits and pieces can be packed on the morning of the move, when everyone is completely ready to get on with the move, and can wait until their things are unpacked at the other end of the move.

With six days to go, you should make sure that you have rung round to your energy suppliers and made sure that all of your bills are being transferred to the new property on the day of the move, so that you can get the new place up and running as soon as you arrive. This includes television, internet, phone, gas, water and electricity, alongside anything else that you may need to have up and running at the new place.

With five days to go, organize your postal redirection to be put in place for the day of the move, so that you don't miss out on any post. You should also be sure to email all business and family correspondents to let them know of the new address, so that no post goes missing after the redirect has finished.

the rest of the week can be spent getting the last little bits of the house sorted out, and a deep clean underway. You may also want to go over to the new place and have a look at any work that you could have done before you moved in, so that you are moving into a beautiful place, rather than feeling like you still have loads of work to do!

Make sure that the parking restrictions outside both properties are capable of handling the parking of various large vans outside, and that you will not be blocking anyone into their driveway, or taking up the whole road! If you have time to spare, draw up a plan of the new place, and mark in where you want to put your larger and heavier items, as this is a great way to get you excited about the new place, as well as being great as a guide for your Acton removals men for the placement of these things.