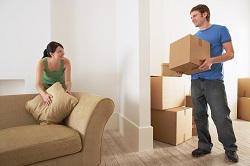 4 Handy Tips for Moving House
22Apr 2015
There are few things that are as stressful as moving to a new home, and with so much to worry about, it's no wonder that stress and worry are at a high level on moving day. If you're preparing to move to your new home but you want to avoid the hassle that comes with the territory then here are some helpful and handy tips to help you!
1) Planning for your moving day.
There are going to be a lot of things that need doing in time for your move. House removals are never easy, so take the time to plan out what jobs needs doing, what items might need purchasing and your timeframe. Once this is done, write down your schedule over the coming weeks and slot in jobs to complete every day. This will help you to keep on-top of your to-do list, and will ensure that everything gets done in plenty of time, so that you won't need to worry on the big day.
2) How to choose your removals company.
There are lots of removals companies that can help you with your move, and finding the right one for you isn't always easy. From small removals to removals and storage services, hiring professional help can give you the help that you need for an easy relocation. If you're thinking of hiring a man with a van, furniture removals teams or just experienced house movers, then make sure you're hiring them from the right company for you. Start your search by asking your family and friends to recommend someone – this will help you to find a tried-and-tested company that you can rely on. If this fails, you're sure to find a myriad of moving companies online. Make sure to read any reviews so that you can be sure you're hiring the best company for your needs.
3) How to save money on moving day.
Moving is incredibly expensive, but luckily there are some ways in which you can save money. You should price-compare any moving companies that you're thinking of hiring, so that you can get the best price, and make sure that you won't be forced to pay hidden fees or costs. If you want cheap removals services then speak to your moving company. If you're hiring more than one service from them, if you're relocating on a weekday rather than a weekend, or if you're not moving at peak trade times then you might be able to get a discount on the removals service you've hired.
4) How to pack your home.
Packing up your home is a big job, but it doesn't have to be a stressful one. Start by sourcing your packing supplies and materials. You don't need to buy boxes for all of your items, but you might want to purchase a couple to protect your most fragile or expensive items. Foam packing peanuts, foam sheets, bubble wrap and other padding supplies designed to keep your items safe on the road can be costly, so why not get a little creative with household alternatives? Towels, bed sheets and winter coats can all be used to wrap up fragile items, whilst suitcases and storage drawers make fantastic moving boxes. Check under your bed for under-the-bed storage boxes, which are a secure and safe way to relocate as well!