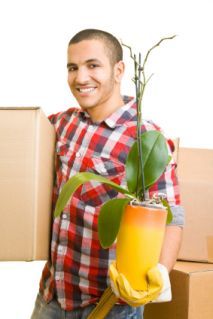 5 Essential Things to Do when Moving to Balham
28 August 2014
Balham is located in South West London, in the borough of Wandsworth, and as with most areas of London, you can expect a wide variety of shops, cafes and restaurants in the local area, and hosts an annual food festival. If you're planning on moving to Balham, then there are a few things you can do to make the move as smooth and stress free as possible.

Organise

Before you even think about packing, it's very useful to start preparations a few months in advance. This should include making a list of things that need to be done prior to your relocation, such as contacting removals companies, what day you plan to move, what services are you going to need, how much you need for a budget, and so on. It's also a good idea to have a backup plan in place, in case things don't go exactly according to plan on the day. You might, for example, get a few quotes from man in van services, just in case you need extra transport on the day.

Clear out the clutter

This is something that can be done fairly early on in the process, and will not only free up space for when you are packing your removal vehicles, but you can also sell any unwanted items and contribute the money raised to the relocation budget. Posting unwanted items for sale on the internet is a good option, as well as checking for any local car boot sales or garage sales in your area. If you are having trouble selling or just simply want to get rid of certain things, don't throw them out. Instead, pass them on to charity shops. This way, someone will get some use out of them.

Compare Quotes

Make sure to contact at least 4 removals companies, as well as man in van services, so you can compare estimates. Many companies offer different services, and most of the time you can choose whether you want packing included, as well as storage, which might be useful if you are moving down to London from somewhere else in the country or have a gap between moving out of your old home and relocating to the new one. By planning ahead, you will have a good idea of what you need from your removal company, which will enable you to get the best service for your requirements. Also, try and make use of public transport in London, as Balham has good rail links and bus routes, that you could make use of when transporting smaller and perhaps valuable goods

Ask for help

Don't be afraid to ask friends and family for help when planning and executing your relocation to Balham, as this can help take the strain off both mentally and financially. You might have a friend who can drive and transport some of your items for you, and paying them petrol money will work out a lot cheaper than hiring a van, for example. Moving can be very stressful, so any way you can spread the burden can be very helpful.

Pack essentials separately

A good trick when relocating is to take a few bags with overnight and everyday essentials with you when you first move into your new home. This means you will have everything you need to settle in quickly and make the first night fairly easy going. Things like toiletries, cooking utensils for a simple meal, some basic cutlery and so on, can go a long way to getting you started with the unpacking and settling in.