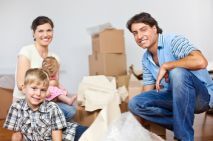 Feel Like It Is Time for Moving – See How to Find the Perfect Neighborhood for You
28 August 2014
There are moments in life when people often feel that it is time for a change. And this does not mean a small one, like buying a new pair of shoes or something. You may say that you have been stuck with the same job and activities for centuries and you want to try different ways. Then comes the time for the major relocation. Some of us are brave and go to another country, some are not so and are limiting the change to the neighboring town. In both cases it is important to remember that the change has to be for better and to be very careful as you pick better spot from the one you are currently living to.

The last one is probably an aim for most of the people who are moving, but few of them know how exactly they will evaluate if the new location is better than the last one and to prevent mistakes. As we all know the perfect place does not exist, but we should not stop trying to get closer to the perfect.

What should guide you for your choice is the very bad aspects from your old neighborhood and you should try to avoid them all ways possible. There are also other things to be aware of, when you are picking your next location.

Since you go to work every day and your kids to school, these should be the first things that will help you decide better. It is always good to be not to distant from your job, because you may not want to change it due to the relocation. Schools on the other side you can change, though it will not be so good for the kids, so make a research about their quality in the neighborhood, you are about to recognize as your new one.

Almost eighty percent of the population have their own cars and are using them to go to work and any other places. However you may not be one of them, or your family may have only one vehicle and you may not be the one to drive it. In this case and for many others it is important to know if the new neighborhood provides access to public transport stops.

Each of us wishes to stay away from the hospital, but still accidents happen, and especially it is very important to know where to go to in such cases when you have kids. The fast reaction and the quality care can be crucial in these situations. The hospital is not the only place you have to be interested about. The fire station and the police also have to be not too far away from your new home.

People who live in the area will give you very useful information for the neighborhood, but you can do a research on your own as well. If you have picked not so distant region and you can often drive to there, before you have moved, you can study the streets and see what impression you get from the place. This is good thing to do because people's opinion is subjective and you are interested from your point of you and your needs above all.

You have to be interested which are the active organizations, taking care for the development and the maintaining of the neighborhood in good condition. The better they are doing their job, the higher the quality of life will be and the less worried you will be when you bring kids with you.