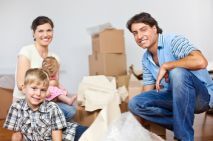 Moving Furniture to Crystal Palace – Relocation Professionals Save Money And Time
28 August 2014
Moving across the city can be a stressful period of time for you and your family. There is no easy way to move your goods from A to B when moving in such a busy city. It may seem that hiring the professional services to assist you would be a wise choice. However the choice is not as simple as whether to hire a removal service Crystal Palace or not, which type of service to choose is also a factor. The choice to make before choosing individual companies is whether to go with a full scale removal company or with a man and van service. Though there are certainly benefits to hiring a traditional Crystal Palace removal service from a recognised brand, below are some of the many advantages to looking at the other option – the man with a van.

Among the many benefits of a man and van service Crystal Palace is the informality of booking. With removal companies you will often have to book weeks, if not months in advance. This can leave you with inflexibility in your relocation and whether the move collapses, roads close or even the British weather strikes you can be left with an unpleasant move at best or no move with extra fees at worst. The man and van service allows booking just a few days in advance and often will not look for a booking fee in advance. As renting is more popular in the capital than elsewhere, you may well have some flexibility due to overlapping contracts – this would mean with a man and van service you can choose the most appropriate day for you, something you would not be able to do with a removal service.

Furthermore, an advantage of the man and van service is that a van is smaller than a lorry (bear with me). Obviously this means less items of furniture can be taken with each journey, but this in itself has its own benefits. Because the van is smaller, it can access many more parts of the capital that a lorry cannot. It would be awful to find out that after ordering a removal company it wasn't able to get down the road of your present or new property, creating extra work manually carrying all your possessions to the end of the street. Beyond this, even if you have checked that both of the roads are accessible, that doesn't mean that the quickest route between them is. This could result in extra fees. And then even further beyond, just because you can access all the roads does not mean parking will be an easy task. You increase your chances of a successful move in the inner city exponentially by ordering a man and van service.

A huge reason to consider a man and van service is the price. Beyond the lack of booking fees that has already been discussed, it is perfectly reasonable to hire a respectable and reliable service for £20 an hour. A removal company will never be able to compete with this, and even if you feel one man is not enough, many man and van services will provide a second person for just £10 an hour more. This means you can easily estimate how much the man and van will cost as they give you an upfront hourly (or sometimes by mile) quote. Moving always incurs many expenses besides the house itself and trying to save pennies somewhere is only sensible. Furthermore, man and van services nowadays will often offer insurance when transporting your goods much as the larger removal companies will, but enquiring into this with specific removal companies is important to do.