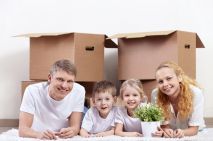 Moving to Edgware on a Budget
28 August 2014
The closer you live to the capital City of London, and the more desirable the area, the more expensive it is likely to be to not only move there but also live there, this is especially true with Edgware. With this in mind, you will want to make yourself aware of some of the money saving tips that you could try to use to bring down costs.

Here are some ideas on how you can move to Edgware on a budget:

• Rather than buying all of your packing materials brand new, consider going to places like supermarkets, who have an abundance of cardboard boxes and packing material at their disposal, that you will be able to take and use for free.

• Instead of hiring a professional to pack for you, try to do as much of the packing as you can yourself.

• While you are packing you will need to de-clutter too, this involves throwing some things away and either donating or selling some of the things that you no longer want or need but are in too good of a condition to be put in the rubbish. Selling some of your belongings is an excellent way of making yourself some money back. Furthermore, when you are moving house, you quite literally are paying for how much you have to move, if this is halved, you will be charged much less.

• Hiring a removals company may be a nice idea to help make your move less stressful, but consider if there is a cheaper alternative. Can you hire a van and get some friends to help you to move? Could you use a storage container to help you to pack and move home, for a cheaper price than a removal company. Alternatively hire man with van, who can help you to load and unload your belongings, but will be cheaper than a removals company would be. Remember that you may need a few people in order to lift some of your furniture etc. therefore, whatever you decide always make sure you have the man-power.

• When deciding upon a removals company call around a list of them for quotes and information on the services that they are offering. You will of course want to hire someone that is reputable and well-established, however, you also require a competitive price. Consider that the following may increase the costs of moving home:
o If you are moving during 'peak season', then you will be charged a higher rate.
o How much do you need transporting? The more things you have the more you need to move to your new home, this could mean hiring a larger van, or the removals company charging a higher fee. De-cluttering, therefore, is extremely useful.
o How far is it from your old property to your new one? You need to factor in both fuel costs and the time it is going to take to travel there and back. If the old property is far from the new one, it may be a case of the move happening over a couple of days, therefore it will cost you more.
o How much help do you need with your move? Not how much do you want, but what exactly do you need? If you have no one to help you to move home and so require some workmen then a removals company may be the best way to go for you, but if you have lots of friends and family who can help, and a van you can hire for cheaper than a removals company would be, then why not move home yourself.