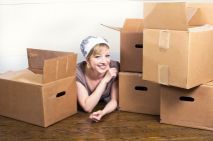 Prepare for your Finchley Home Removal
28 August 2014
We've put together a comprehensive list of hints and tips to get you through the stresses and strains of moving house, all from the mouth of an experienced man in North London, with years in the business.

1. Make sure that you get your quote from the removal company, which goes by a strict code of conduct, and is regularly checked to insure that their standards do not slip. This will let you know that your removal men are abiding by rules set in place to make sure that you, the customer are put at the centre of their concerns, and your items will be moved safely.

2. Be aware that while quotes will differ between companies, the services will never be the same, and therefore paying less could mean a whole world of trouble for you in the long run.

3. Book your removal service well in advance, it will mean that you get the exact dates that you need, and can pick your mover by choice, not availability. Fridays are often booked up the quickest, so if you can, avoid moving just before the weekend, as it will give you a better range of movers to choose from. When you feel like you have chosen the perfect service, be sure that the company's insurance policy runs up to a decent amount for your goods. You don't want to left short changed when a breakage costs you money because you didn't read the fine print!

4. Let your local council know that you plan to move on that day, and they can lift any parking restrictions that you may have outside your house. If you forget to do this then you may be landed with a large on the spot fine, which you will be liable for as the customer. Check that you do not have to do the same outside the destination address, to reduce the likelihood of any nasty surprises.

5. Auction off any furniture that you don't want in the new house before the move. Charities will often collect items directly from you, so that's one less hassle to consider. Also make sure that everything you can get done before the move gets done, like laying carpets and any electrical or decorating work that you may need doing. This will all be infinitely easier in an empty house. Empty your fridge and freezer a bit in advance of the move, so that you aren't wasting food by throwing it all out on the day.

6. Draw a floor plan for the new house and sketch in where you want your furniture and other items to go, so that you're sure that you have enough room for your goods. Give your removals team a copy of the plan, so that they can save you time by depositing each item in its intended place. Otherwise you may find yourself needing to move a heavy sofa on your own!

7. Dismantle large items of furniture that can come apart on the day before they are packed to save a mad rush when the day comes, and avoid any problems getting in the way. Pack up a special box of things that you will need on the day of the move or shortly after you arrive at your new house, so that they are to hand. Be aware that many removal companies cannot carry certain things, like flammable liquids, due to insurance policies, so have a place to keep them, or dispose of them in advance.

Most of all, keep your head and plan well, and nothing should go wrong!