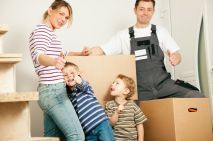 Prepare Your Employees for the Office Move to TW9
28 August 2014
The TW abbreviation in a postcode for London stands for a group of twenty smaller districts, each with a different number after the letters. The main area that is covered with this code includes significant parts of southwest London, as well as piece of Surrey and Berkshire.

Especially the number nine after the letters means that these are the districts of Kew, North Sheen and Richmond. Each of them is interesting and you will be pretty sure about that once you take a look at the article. Kew is one of the districts from this part of London that has gathered much attractions and landmarks inside its borders. The Royal Botanical Garden will be the first to start with, because usually when this part of the capital is mentioned, these particular gardens are the first thing to come up in people's mind. Kew palace is one very bright and eye catching complex of buildings in the area, that should be seen. It consists of several buildings, each of them called Kew Palace and they all are forming the bigger complex. The North Sheen is another district that is included besides the letters and numbers of this postcode. It was long ago incorporated in the district of Kew and the name actually remains for a region that no longer exists. Richmond is the territory with the museums and theaters.

After all this said before, your staff will be very happy to move to this are of London, but still there are things that have to be discussed and arranged prior to enjoying your new office in central London.

You have to leave enough time to talk to the most important people from your stuff. Let them show what they think and what their fears are, because people always fear from changes. Do not push anybody, especially the most valued ones. Make meetings to discus important issues, but still remember that some people do not like to share face to face. Leave a box for opinions and questions, concerning the moving, in the office. You can bet you will get very precious ideas of which you have not even thought about.

Get the staff in engaged with the process as well. Especially for those of the people who are responsible for the archive. It is not good idea for anyone else to pack and organize these papers. Ask them to do it themselves and pay then the extra time. At the end you will see that this worth the money. Give each employee a picture or plan of his or hers office. They will have enough time to plan their part of the relocation, to come up with useful ideas and most of all to be prepared what to expect from the new place. In case it is possible leave a weekend and make a trip to the new office, as you take as many of your people as you can.

Even when the move is over, allow a period for adaptation. You will probably have to let several more people go by this time. The reason for this to happen is because often expectations do not meet the real situation. These employees may have had the best ambition to be with the company and to continue their work, but if other circumstances are pushing them too hard, they can give up at some point.

Be supportive during the whole process and do not neglect the situation. Thus you will be prepared for changes and they will not surprise you.