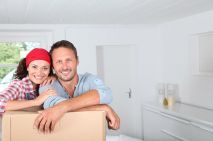 Reducing The Risk In Student Removals
27 August 2014
Moving in to student accommodation or your first student house will be a time that is extremely exciting. However, there are plenty of things that can go wrong, and you will need to ensure that you don't allow your anticipation of the good times ahead get in the way of ensuring that your belongings are all safe and in one piece at all times. You will find that a student move will usually be a lot less heavy and stressful than a full scale domestic move, where everything seems to go wrong all the time, but in fact, you will find that there are still times where things can go wrong, especially if you get complacent! Have a look over the following ideas as to how you might prevent this, and ensure that you are not likely to have any trouble over all.

Packing is a big part of the process in every removal. You will find that there is a lot that you can do to ensure that the contents of your boxes are safe and sound, and that will usually, come in packing carefully and cleverly. You should think about the things that you put in boxes together; you won't want to put heavy or rough items in with light and delicate things, as there will likely be breakages as they get shifted around. If you are able to wrap delicate glassware then you will find that it will help enormously with protecting things over all, and that you have a lot less to worry about!

Man and van services are often used by students to get from A to B on shorter removals. If you are able to, you should definitely check out the driver beforehand, as otherwise you have no idea who you are dealing with. You will find that the best way to have a sense of security in these matters is to use a driver that has been recommended to you by a friend or relative, as this way you know that you are totally fine, as they have used them before. You will find that having a friend help you out will help things go more quickly, and will ensure that your belongings don't have to be left out of your sight for the sake of lifting and shifting things with the driver. It will also mean that the driver is less likely to try something on if they were thinking of ripping you off and stealing something!

When you are unloading a car or a van, you will find that you often need to leave things unsupervised for a minute, and this is a prime time for things being stolen. People are unlikely to make off with random boxes, but if you leave a music system or a bike out next to the van whilst you are moving things in to the new place, then you may well return to find that it has disappeared! In these circumstances, you will want to have someone with you to keep an eye on things whilst you are moving things upstairs or in to the house. You can always shift positions each time round, with two lifting, and one watching, revolving between lifting and watching out for the stuff each time round. Otherwise you will need to be very vigilant and be sure to lock the van or car each time you go up to deposit something. This can be a pain though, so having more people looking out for you is pretty important!