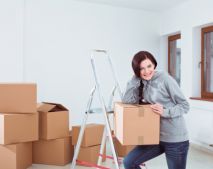 Student Moving to Bermondsey
28 August 2014
The Blitz laid waste to much of London in the second world war, and a great many land marks throughout the capital were lost, including very precious buildings that were greatly loved and lamented over in their absence, from Hotels to Churches. Fires throughout the ages, not just related to war time have also completely ruined parts of our beloved capital and made the landscape a very different place.

One of the lesser known parts of London that we will never experience was lost to fire; the densely populated and very impoverished area just south of the River Thames near London Bridge called Jacob's Island being one of them. The area was featured in Oliver Twist and was burned to the ground in 1861, then being replaced by a warehouse park in the 19th century, which is good news for students moving to Bermondsey, as the area is now known! The industrial aspect of this part of London means that house prices are low, and gives rise to smaller industrial units being bought up and rented to keen practitioners of the arts, whether musicians, music producers, painters, sculptors, photographers or video directors, there is space for the creative type in the sprawling mass of urban warehouse estates.

So, as a student, you're looking to move your precious belongings in as cheap as possible a manner. The Student loan will hardly keep you alive while you complete your studies in your new residence, let alone get you there!

The best bet if you don't have to move too many things, or any heavy and precious equipment, (and you can't fit them in your car) is to get a local man and van to help you, as long as you aren't moving too far. If you have a long journey, then an even better option is to enlist a helpful parent to assist you in cramming all of your belongings into their car (as well as yours if you have one). Make sure to scope out the parking spaces in your area, as south London student flats very rarely have a drive way, or a garage, and traffic wardens can be ruthless when it comes to unloading on busy streets. the best bet if you're unloading from a main road is to park on a quiet side street and do trips with your luggage, being careful to lock the car as you go each time, there's no use in getting robbed before you've even got your things through the front door!

If you live fairly near by, or at least within an hours drive, then a Man with a Van may be of use to you. Use Gumtree to find the most competitive rates, but also check with the larger companies to be sure that you aren't sacrificing peace of mind for a measly couple of quid! Make sure that the size of Van you're ordering is appropriate for your job, there's nothing worse than realising at the last minute that you won't be able to fit all your items in!

Have the post codes for your pick up and drop off to hand when calling to make arrangements, and if the quote is very high then do not be afraid to barter it down, there are thousands of similar services in south London, so don't worry about being sensitive!

If you feel like you have the right man and van for your job then find out if you can take a friend to help you, just to be on the safe side. If not, then have one meet you at the destination, and make the driver aware, so as he knows not to try and hijack your goods!

Happy Moving!