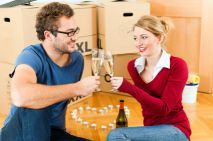 Top Five Considerations When Moving Abroad
27 August 2014
Moving home is complicated enough as it is, but when you are moving to another country it can be even more difficult. That is why so many people find the process far more difficult than the standard more. With so much that needs you careful attention and often a tight time frame in which to work, the process of international moving can be more complicated than you ever bargained for. For those who have their heart set on moving to another country, however, what are the main considerations which will crop up time and time again? Read on to find the top five things to think about during international domestic removals.

1. Paperwork
A big part of any normal move is the paperwork which will need to be done in order to move into the home. It could be that there are important contracts which need signing or that you need travel visas in order to move into the country in question. It could even be a passport for a pet. When moving abroad, there are often a number of documents which you will have to fill out and complete, as well as have to hand, before you set off.

2. How Much You Want To Take
Deciding how many of your possessions you wish to take with you can have a huge impact on the move itself. Many people find that moving abroad gives them a fantastic opportunity to get rid of a great deal of the items which they never needed before. By cutting down on the amount you take with you, you can save time and effort and streamline your approach to day to day life, meaning that there is a lot less hassle to be found during the process of moving abroad.

3. Planning
The most important part of any move is planning and that is particularly true for those who are leaving the country. In this regard, you will likely have to do a bit more planning and put a bit more thought into the moving process before crossing the border. Whether it is making your way to the new home or making sure that you will have everything you need once you get there, the importance of planning ahead during the move is something which you should never forget about.

4. Language Barriers
A of the biggest barriers to those who are moving abroad is often the language barrier. If you are moving to a country where you are not fluent in the language, then it can be incredibly important to focus on making sure that you have every eventuality covered and that you are beginning to prepare for a life surrounded by another language. It could be as simple as getting to know some of the more common words or taking classes: whatever you do, preparing yourself for a whole new language can be tough but something which will make up a large part of the moving process.

5. The Right Help
For those who are still worried or those who do not have the time to dedicate to the full planning process, the best thing to do is to hire in someone who knows exactly what they are doing. By hiring in experts, you can make moving abroad a bit more simple. As experienced practitioners of the moving process, these people can make sure that you are able to cover all of the possible bases and can help with the planning which is required for moving to the new country. When you are moving abroad, having the experts around can be very helpful indeed.